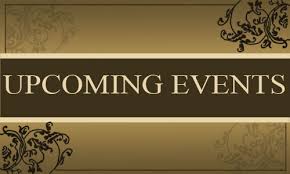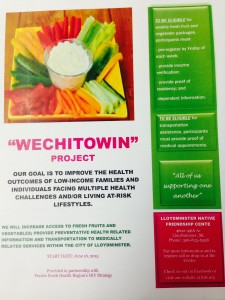 WE HAVE RECENTLY STARTED OUR NEWEST PROJECT CALLED THE "WECHITOWIN" PROJECT. OUR GOAL IS TO IMPROVE THE HEALTH OUTCOMES OF LOW-INCOME FAMILIES AND INDIVIDUALS FACING MULTIPLE HEALTH CHALLENGES AND/OR LIVING AT-RISK LIFESTYLES. EACH TUESDAY AT 1:00PM WE WILL BE DISTRIBUTING FRESH FRUIT AND VEGETABLE BAGS. IN ORDER TO REGISTER FOR A FRESH FRUIT AND VEGETABLE BAG PLEASE COME INTO THE LLOYDMINSTER NATIVE FRIENDSHIP CENTRE. WE REQUIRE THE ADULTS HEALTHCARD AND A T4 FROM THE PREVIOUS YEAR. IF YOU HAVE NOT YET FILED YOUR TAXES PLEASE MAKE US AWARE OF THIS AND WE CAN USE A DIFFERENT RESOURCE. WE DO SUPPLY TRANSPORTATION TOO AND FROM THE CENTRE WHEN PICKING UP YOUR FRUIT AND VEGETABLE BAG IF REQUIRED. WE DO ASK THAT YOU HAVE PRE-REGISTERED BY FRIDAY OF EACH WEEK.
PLEASE CONTACT CHASITY TO REGISTER FOR THE FRESH FRUIT AND VEGETABLE BAG. 306-825-6558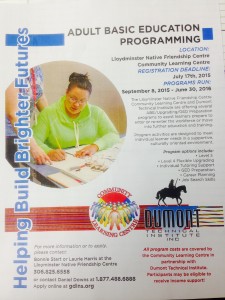 THE LNFC COMMUNITY LEARNING COMMUNITY LEARNING CENTRE AND DUMONT TECHNICAL INSTITUTE ARE OFFERING SEVERAL ABE/UPGRADING/GED PREPARATION PROGRAMS TO ASSIST LEARNERS PREPARE TO ENTER OR RE-ENTER THE WORKFORCE OR MOVE INTO FURTHER EDUCATION AND TRAINING.
PROGRAM ACTIVITIES ARE DESIGNED TO MEET INDIVIDUAL LEARNER NEEDS IN A SUPPORTIVE, CULTURALLY ORIENTED ENVIRONMENT.
PROGRAM OPTIONS INCLUDE:
LEVEL 3
LEVEL 4 FLEXIBLE UPGRADING
INDIVIDUAL TUTORING SUPPORT
GED PREPARATION
CAREER PLANNING
JOB SEARCH SKILLS
ALL PROGRAM COSTS ARE COVERED BY THE COMMUNITY LEARNING CENTRE IN PARTNERSHIP WITH DUMONT TECHNICAL INSTITUTE. PARTICIPANTS MAY BE ELIGIBLE TO RECEIVE INCOME SUPPORT!
PROGRAM RUNS FROM SEPTEMBER 8, 2015 – JUNE 30, 2016
REGISTRATION DEADLINE IS JULY 17, 2015
FOR MORE INFORMATION OR TO APPLY PLEASE CONTACT:
BONNIE START OR LAURIE HARRIS AT THE LNFC AT 306-825-6558
OR CONTACT DANIEL DOWNS AT 1.877.488.6888
APPLY ONLINE AT gdins.org
Women Warriors
The LNFC is offering the Women Warriors – 8 weeks to healthy living program
Weekly activities facilitated by certified Fitness Instructors include:
Intros & urban polling
Running
Circuit training
Zumba
P90X
Yoga
Core
Nutrition
FREE REGISTRATION
Start Date: 6:00pm, October 05, 2015
4602 49 Avenue, Lloydminster SK
"Promoting young Aboriginal women's health and self-esteem, through an active lifestyle and positive self – talk"